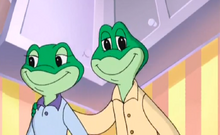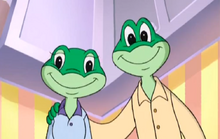 Mr. Frog & Mrs. Frog's Journey Adventures
Mr.Frog


Basic info
Name
Mr.Frog
Gender
Male
Species
Frog
Color
Green
Status
alive
First appearance
The Letter factory
Year(S)
2001-2009
Quote
 ?
Mr. Frog is the father of Tad, Lilly, and Leap.
He works with Professor Quigley at the various factories he builds.
Mr. Frog is very creative.