The Letter Factory
 is the seventh episode in LeapFrog produced on November 14, 2000 by Lyrick Studios on VHS and re-released on December 9, 2003 by PorchLight Entertainment and Warner Home Video on VHS and DVD. It has 26 letters of the alphabet. A version of The Letter Factory was also made for the Leapster, but with lesser quality animation and some scenes missing.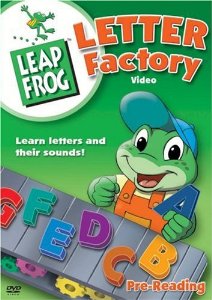 Join Leap and his friends as they learn letter sounds with the help of some amazing machines! Leap, Tad, Lily and Scout long to learn about new machines. When their magical work building, Factory, leads them into a room, they discover a remarkable alphabet collection and an ABC antics ensue! As the friends shape up letters with a blender, fix a malfunctioning machine, make words with an airplane convenyor belt, andmore, they make way through the entire alphabet!
Join Leap, Tad, Lily and Scout as they learn about letters.
Letter Rooms
Edit
A - ahhhhhhh!
B - Beethoven
C - Cold
D - Drumming
E - Ear hearing
F - Flying
G - Gym weighting
H - Hawaiian
I - Icky Slime
J - Jumping
K - Karate Kick
L - Lollipop
M - munching
N - Mosquito/Naugty No Sayers
O - Safari
P - Popcorn
Q - Quackping ducks
R - Racing
S - Snake
T - Toe Tapping
U - Umbrella
V - Vibrate
W - Rap Song
X - X-ray
Y - Cheerleader
Z - Sleeping
Characters
Edit
Major Characters
Edit
Treadmill (speaking cameo; 2 cameos)
All machines (cameo)
The very first Leapfrog DVD
RUN TIME: 31 MINUTES
The letter Factory/Gallery